Wall Panel Manufacturing Services
Wall Panel Manufacturing Services
Professional Services for your next project
Panel Systems are the product of taking your blueprints and building the wall panels in our manufacturing facility. Panel systems are the most efficient way of building semi-custom and standard housing. Manufacturing panels requires less time and less wasted materials.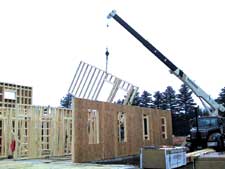 These two factors make researching the panelization process necessary when you decide to build a home.

LaValley-Middleton Building Supply uses the highest quality products with each project that we build for our contractors and ultimately the homeowner. All of our components are precision engineered to work together using state-of-the-art computer software and computerized equipment.

Panel systems are manufactured to the strict guidelines of the blueprint, and when they arrive on your site to be erected - everything runs smoothly, everything fits. Consider using panel systems on your next project and find out what we can do for you. We offer free estimates and free delivery. We also can help you set your wall panels with one of our many cranes and skilled operators. Save time, energy and money on your next project and let the panel system experts take the hassles out of framing your next project.
---