Kitchen Design Services
Kitchen Design Services
Professional Services for your next project
Our team of designers and installers can make your dream kitchen a reality. Like most things available for the home today, the choices seem endless. The truth is most cabinet lines today have to be very good or they can't survive.

LaValley-Middleton Building Supply (LMBS) offers KraftMaid, Aristokraft, Medallion, Bertch, and Legacy. All of these lines have exclusive features which make them desirable to the consumer. KraftMaid, our best selling line, has a wide breadth of designs and is competitively priced.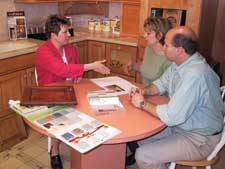 There are two areas where LMBS competes head-to-head with our larger corporate competitors ("the Big Box stores") and we like the way we look! When it comes to custom kitchens and countertops we feel that our prices are routinely competitive and our service and design skills are superior. The difference is our people. There are three basic types of countertops - Laminate, Granite and Solid Surface. We fabricate our own laminate tops to the same strict rules of production that you are accustomed to receiving from LMBS. We buy our granite and solid surface products from the same suppliers as our "giant" competitors.

The difference is that we don't have to markup all the extras. In true comparison shopping our prices usually add up to less than our competitor's. This fact coupled with the quality of our installations is the reason our contractors and homeowners consistently favor LMBS.

Probably the most important ingredient in the kitchen sale is the designer. They have to listen. The kitchen is one of the most important rooms in your home. There is a lot to it and is an expensive part of the house. Good advice and support is essential when designing such a key component to your home. Our people understand this and will work with you to get things right. We have to live with our choices, and a good design will be there long after the price is forgotten.
---