Custom Door Manufacturing Services
Custom Door Manufacturing Services
Professional Services for your next project
LaValley-Middleton can save builders and their clients both time and money with our standard and custom doors. Pre-hanging of interior and exterior doors is done in our Newport New Hampshire state of the art door hanging equipment. Our modern equipment, combined with our experienced staff which totals more than seventy-five years; can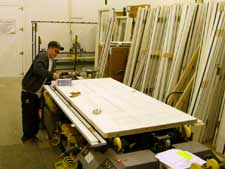 provide products in the most competitive situations, but can also customize doors to solve the unique problems that our competitors shy away from.

Although we can and do provide hundreds of door products, helping to find a solution for that unusual problem opening provides us with a sense of accomplishment and the good feeling that can only come from providing solutions to our customer's needs.

Our Newport facility stocks hundreds of doors in lauan, birch, ponderosa pine, radiata pine, six panel molded in textures or smooth, and solid core. Delivery is fast and at prices we believe will prove more than competitive with quality that is second to none.
---