Panelized Homes
Panelized Homes
by LaValley Building Supply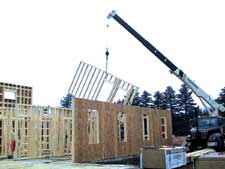 LaValley-Middleton Building Supply can design your project from your ideas or you can choose from hundreds of home plans that are available. LaValley-Middleton Building Supply can customize your plans with our complete staff of home designers and project specialists.
Panelization is the same as "stick built" only it is done in one of our manufacturing facilities to strict standards, so all the pieces of your project fit together. Panelization uses modern technology to be more efficient, have less waste, lowers labor costs and saves a great amount of time. This all adds up to saving money!
Custom Designed Homes and Plans
LaValley-Middleton Building Supply can "panelize" your project and deliver it with one of our cranes and set the panels and components in place for your builder. Thousands of Additional Home Plans are available online including plans from: WWW.EPLANS.COM.
Stop in, email or call one of our project specialists at any of our locations, we'd be glad to answer any questions that you might have. Customized Plans can be drawn from your concept or ideas through our company stores.
National Association of Home Builders - Panelized Homes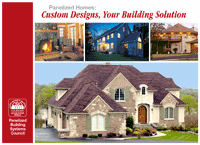 Download a brochure from the NAHB about the use of panelization to build your next home. DOWNLOAD NOW
---