Wood Shed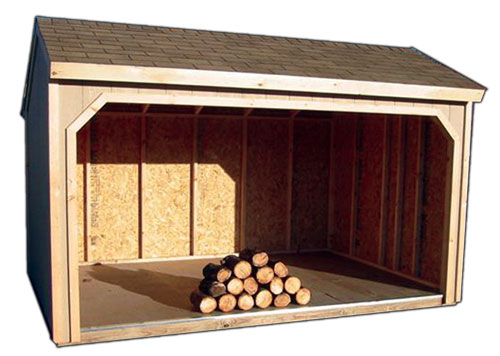 The woodshed is the perfect place to store your seasoned or unseasoned firewood.
| | | |
| --- | --- | --- |
| Size | T-111 | Vinyl Sided |
| 12x8 | $2,349 | $2,800 |
REMINDER: Our delivery trucks are very heavy and can cause damage to driveways, lawns, etc. They CANNOT ever drive over septic systems. SITE PREPARATIONS: Other than setting on a level asphalt pad the best base is a LEVEL base of crushed stone. Concrete blocks will work fine, except they have a tendancy to settle uneavenly, making door adjustments necessary. If you use blocks, the first block should be 12" in from the front with the rest of the space divided so that no block is more than 4'0" from another. We can accommodate almost any special sizes and needs. Please contact a store sales person for any questions, pricing or further details.Prices and availability subject to change please see store for details.